LSU College of Science researchers are fearless explorers who often travel to remote areas in search of answers to their burning research questions. Answers to these questions are important to how we understand things like the interrelatedness of different species, biodiversity on our planet and how to conserve it, or even how crop pests may evade disease outbreaks, to farmers' chagrin.
Vivien Chua, a native of Malaysia, works with Dr. Fred Sheldon in the LSU Museum of Natural Science and the Department of Biological Sciences to uncover evolution and diversification of montane birds in Borneo. The big question she is trying to answer is, what patterns and processes are responsible for shaping the modern population structure of birds such as those in Borneo?
This summer, Vivien and other Museum researchers traveled to Lanjak Entimau Wildlife Sanctuary in Sarawak, Malaysia. Vivien had never been before, and the remote location requires lots of planning to get access to. LSU Museum researchers teamed up with the local forestry department and the local tribe in the area to explore the Wildlife Sanctuary for new and rarely seen bird species.
We asked Vivien to tell us more about her fascination with birds and her summer expedition to Malaysia.
LSU College of Science: What do you love most about studying birds?
Vivien: Birds are just really bizarre creatures. They are found all over the world and have so much variability when it comes to their behavior, natural history and biology. We can learn so much about the earth's evolutionary history by studying them. Studying birds has allowed me to be a step closer to the natural world and to travel to places I would not otherwise. I have come to appreciate wildlife even more than I did before. Studying birds, you realize that each individual organism has a complex history and biology. They hold so much information; some that we can study with current technology, but other data are waiting to be explored.
LSU College of Science: How did you get into science?
Vivien: I've always been attracted to the outdoors. Since I was a child, I've always been into outdoor sports, climbing trees, trying to keep up with the neighborhood boys by running as fast as them, and racing on our bikes. As I grew older, I started going on a lot of camping trips with a lot of camp activities. I was also a girl scout. I always tried to participate in any extra-curricular activity that involved being outdoors.
Based on my fascination with wildlife, my attraction to the outdoors, and perhaps because of having watched too many nature documentaries, I decided to pursue my B.S. in Ecology and Evolutionary Biology, a path that to this today puzzles a lot of my family and friends. Coming from a developing country, it is difficult to picture someone choosing a career path that does not make a lot of money, but also involves going into remote forests.
During my undergraduate studies, I started working at a museum and lab where I studied systematics and evolution of North American birds. That is when I decided that I wanted to work on birds in Southeast Asia with Dr. Fred Sheldon, a pioneer in Bornean avian evolution and systematics. I applied to the doctorate program at LSU and have since been on multiple field expeditions.
LSU College of Science: What's the oddest / most dangerous / craziest thing you've done "for science"?
Vivien: This is a difficult question, since what is considered normal to me might be dangerous to some. I will have to say the ascent to Mount Mulu is one of the hardest and perhaps dangerous thing I've encountered in the field. Usually, we transition slowly into field expedition mode over the course of a few days to help build up our stamina and strength after sitting for months in front of a computer or in the lab. However, we did not waste time on this particular trip. We attempted to climb up to 1,300 meters from base, which usually takes about eight hours.
We started late in the morning, had to stop due to rain, and ended up climbing in the dark. To me, it was a really rough climb and I felt really out of shape. I had to hold onto roots and pull myself up by holding onto trees. It was also pitch black, even with our headlamps and our local guides. It wasn't until we were descending that I realized how steep and narrow the trail was at certain parts of the climb. Imagine walking on a narrow ridge with a steep drop off on either side. I am probably exaggerating, but it reminds me of Angel's Landing at Zion National Park. We just didn't realize how dangerous it was because it was too dark to see!
LSU College of Science: What were your motivations for going on the field expedition to Malaysia this summer? What research questions are you trying to answer with this field work?
Vivien: Do we need a reason to go explore and spend time in the rainforests of Borneo?!
As a member of the museum and scientific community, I jump on every opportunity to go explore and discover areas that have yet to be surveyed. I strongly believe that by being in the field, we are able to observe the patterns and mysteries of nature that then inspire us to ask better scientific questions back in the lab. I am very thankful that LSU is a big advocate of going into the field, especially for those studying organisms in the wild. It is difficult for me to imagine studying these organisms but being unable to see them in the wild or in the habitat they belong in. It gives me better perspective and appreciation for them.
I went into the forests of Borneo this summer to collect samples for my dissertation, which aims to discover the process of diversification of birds in that region of the world. This is accomplished by determining patterns of population structure within and between species, along with paleogeographic and modern ecological processes. I collect genetic, morphological and ecological data for the birds I am studying.
We collect as much data as we can while we are in the field, either for our own research or other researchers.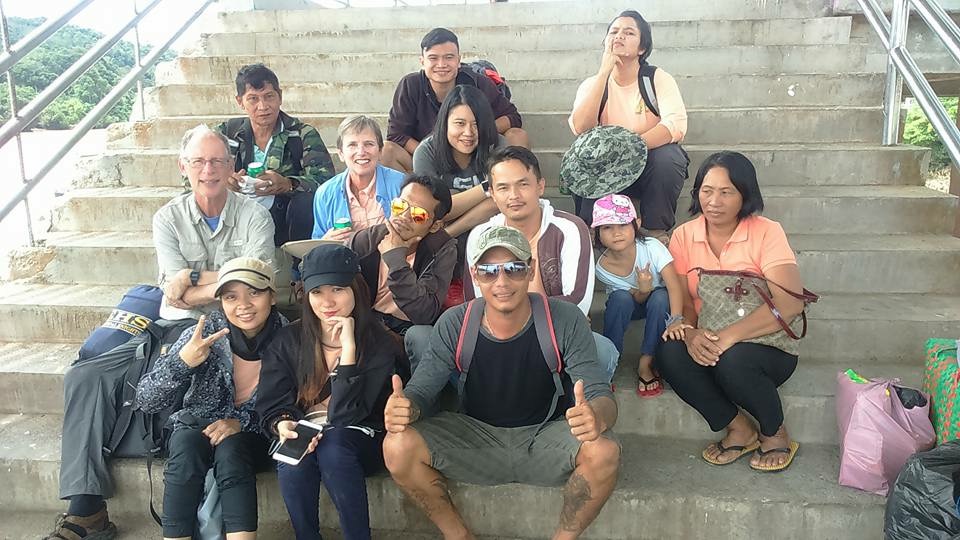 LSU College of Science: What did you expect to find?
Vivien: It is difficult to have expectations when it comes to field exploration. You hope to be able to see or find your target samples, but sometimes it is unpredictable. You might come across the perfect habitat for a specific bird but not hear or see them at all. But it feels amazing when you come across birds and other animals that you did not expect to encounter.
One thing you can always expect is a great field experience despite all the physical hard work. I remember telling myself that I would never climb Mount Mulu again when I lost multiple toenails coming down the mountain. But all I can remember now is what a great experience that was. I would go again.
LSU College of Science: What did you bring with you into the field?
Vivien: I tend to be very organized and overly prepared when I get ready for the field. There are a few important items that you cannot replace or go into the field without. A Swiss or a Leatherman multi-tool, a head lamp, a good field guide, a good pair of shoes/boots and personal field catalog are essential. Also, a lot of zip-locks. They work great for everything, especially in a place where it rains a lot.
LSU College of Science: What does it look like to be in the field, for you? What did you eat, wear, etc.?
Vivien: I work in the hot and humid rainforests of Borneo. It is very much like Baton Rouge in the summer, except for when you go up into the mountains where it is chilly and humid and your clothes don't dry! I usually wear long sleeves, quick drying pants, and long Smartwool socks that would go over my pants. This is to avoid leech bites!
We usually wake up before dawn and open our nets right at dawn when the birds are most active. The rest of the day is spent checking mist nets, sometimes moving unproductive mist nets, and preparing specimens. Occasionally we go birding, especially if it's an unproductive day. We usually close the nets right before dusk to avoid having to remove bats that can get caught in our nets.
We eat a lot of rice, salted dried fish and canned food (usually curry and sardines). We also eat a lot of instant noodles and drink a lot of instant coffee. However, our recent expedition was very different. Since we were located next to the river and most of the locals are fishermen, we ate a lot of fresh river fish. They were also great at gathering wild edible plants like bamboo shoots and fiddleheads.
LSU College of Science: What was your favorite part about this field experience? What was most challenging?
Vivien: I love the whole experience of being in the field, from the planning stages until the very end. My favorite part of this particular field season was the people I met and the culture I got to experience.
It was a new experience being in the field with such a big group consisting of local forestry and conservation staff as well as the members of the tribes that live along the river. We taught them about the birds that inhabit their forests and museum techniques. In turn, they taught us about their culture, their interaction with the forests, and survival skills such as how to build camp and fish.
The most challenging part of most expeditions is the process of getting to the field site to conduct our research as well as being able to safely transport our scientific samples back to LSU. Most of the time, it requires a lot of time and work from different parties to get permits in order. There is no room for error because a simple clerical error could disrupt the expedition.
LSU College of Science: What was the most surprising or interesting thing that happened during your field experience?
Vivien: We were at what seemed to me like a unique and different area this summer. We traveled by river to most of the sites instead of driving. Topographically, the area has a lot of slopes and valleys. Hence, we found a few bird species that are slope specialists to be more abundant here than any other sites I've been too. The Blue Banded Pitta, Erythropitta arquata, is a quest bird for most birders. They are discreet and tend to stay in their territory. Even though we did not see them, we heard them singing. We heard multiple individuals, one in the valley to the right of our camp, one to the left, and one across the river. This blows my mind, because they are so uncommon. Occasionally you come across one of them singing, but to hear multiple ones at the same time, it's surprising. There were also multiple Great Argus pheasants calling in the valley next to our camp.
LSU College of Science: What did you find? What kind of data did you collect? Did you learn anything new?
Vivien: We are at a location that we have never been to before. Everything was new. I work on Bornean avian population genetics and phylogeography, so visiting a new area is always a great opportunity to fill in gaps in the known distribution of these birds. I also collected data for other researchers (e.g. we were asked if we could collect sperm samples). We are currently waiting for the permits to be approved for these samples, so some samples are still in Borneo.
LSU College of Science: What's next?
Vivien: Once we have access to all the samples we collected, we will probably extract genetic, morphological and ecological data from them. This data, along with other data we have worked hard collecting from other expeditions, will help us infer the avian population genetics of Borneo, biogeography, and ultimately avian evolution in this region of the world.